Linear time-invariant (LTI) systems can be represented by the transfer function . It determines the output signal of an LTI system for a given input signal in the frequency domain:

This diagram illustrates how the output for a sine wave input signal is determined:
Transform the input signal into the frequency domain.
Weight the spectral components with the respective gain and phase of the transfer function.
Transform the output signal's spectrum into the time domain.
An RC low-pass filter is a LTI system. It shall be used to examine amplitude and phase of a complex valued frequency response. Let us start deriving the RC low-pass filter's transfer function.
An RC low-pass filter is a potential divider circuit containing a resistor and a capacitor. It implements a first order low-pass.
Recalling the capacitor impedance the transfer function results to

or
where is the cutoff frequency .
The rearrangement in polar coordinates leads to:
Thus the absolute value yields the amplitude response, and the argument yields the phase response.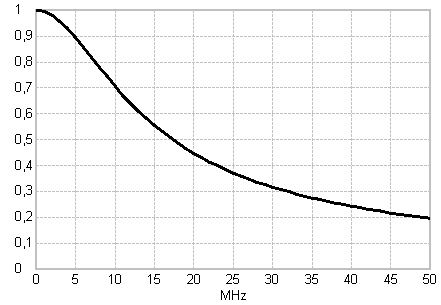 Calculate the missing values in the table!
| f (frequency) [MHz] | 5 | 10 | 15 | 20 | 40 |
| --- | --- | --- | --- | --- | --- |
| (output amplitude) [V] | | 0.707 | | 0.447 | |
| (phase shift) [ ] | | 45.00 | | 63.44 | |